LadbrokesPoker.com UK Poker Room
Why play Ladbrokespoker?
Ladbrokespoker.com is officially Europe's busiest Poker site with Ladbrokespoker player numbers regularly exceeding 5,000 at peak times - spread across as many as 2,000 virtual poker tables.

Over 10 million hands are dealt at LadbrokesPoker every month.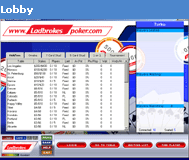 ---
Ladbrokespoker.com - Europe's Busiest Poker Room
Ladbrokespoker.com is Europe's Busiest Poker Room
The Ladbrokes Multi-Player Poker service was launched on 13 May 2002
Over 100,000 players have registered from 107 countries and over 80% of customers are European
Every day over 20,000 people play Poker online with Ladbrokespoker.com
At the busiest times over 8,000 people will be playing against each other
Ladbrokespoker is also the only site in the world not to take US players (for legal reasons) - something that is popular with our players, given the perception that US players are stronger. The absence of US players is beneficial to the 'community feel' of the site
60% of players at LadbrokesPoker are under 30 years old, there are more 19 year olds than any other age year and the average age of a LadbrokesPoker Player is just 32 years
Ladbrokes is the biggest site in Europe with a total of $10,000,000 cash now won every day in "Pots"
LadbrokesPoker is estimated to enjoy 35% of the European online Poker tournament marketplace (Poker Pulse)
---
Why play Ladbrokespoker.com Multi-Player Poker?
"Great Action" - "Ladbrokes has some of the best games around. There is great multi-way pot action in all forms of poker." - Online Poker Review. LadbrokesPoker has the widest range of staking options and the highest average pot size on the web.
No.1 Community - The LadbrokesPoker room has the strongest sense of community of any Poker site on the web, due to it's European concentration, unique player profiles, player leaderboards and message forum. As a non-networked site - it is independent of other sites. All players are Ladbrokes players.
Brand reliability - Ladbrokes is the world's biggest betting and gaming company. It's size and reputation reassures players that they will be dealt fairly and paid promptly. Ladbrokespoker, unlike other sites, does not employ robot players, shills or house players. One expert has said "When online poker centred on dodgy companies operating out of Costa Rica and Antigua, consumer confidence was low but the game still attracted millions, now that big boys like Ladbrokes have moved in, we're on a whole different level" *.
Liquidity - LadbrokesPoker has more players than any other European Poker room. Poker players want a service with plenty of choice of players to play, different game variations to enjoy and big tournament jackpots to win. Ladbrokespoker.com offers this because of its size. Any other UK gaming operator would struggle to deliver the liquidity to make a Poker site successful.
"No Americans please" - Whilst Americans are great people - they are also the best Poker players. There are thousands of professional players in the US and they make US Poker sites hard places to win money. Ladbrokespoker is popular, paradoxically, because it is the only site in the world that does not take US players. Also important for European poker players are poker tournament start times. At Ladbrokespoker they are convenient for European players, whereas tournaments at predominantly American sites start too late in the evening.
Cost-free, hassle-free banking - Unlike other operators, Ladbrokes offers commission free currency exchange into US Dollars. (All staking takes place in USD). Ladbrokes does not use bid/ offer rates but runs floating mid-point prices for over 15 different currencies. There are no restrictions on taking out your winnings at Ladbrokes. Ladbrokes pay your winnings to your bank account, immediately, upon request.
24 Hour a -day Poker Manager coverage - Ladbrokespoker employs a team of professional poker card room managers who are always online to resolve disputes and provide support and advice for novice players.
* David Rai, quoted in "Poker: it's the new football". Sunday Herald - 20th October 2002.
---
Ladbrokes Poker Tournaments
LEOCOP
LEOCOP is the LadbrokesPoker European Online Championship of Poker. LEOCOP is Europe's No. 1 Online poker event, taking place at Ladbrokespoker.com from Sunday 24th April - Sunday 1st May. Satellites begin on the 10th January.
7 events with over $1,200,000 in prize money to be won
Championship event - $750,000 guaranteed prize pool
7 exclusive gold LEOCOP bracelets for event winners
The winner of each event wins free entry into the 2005 Ladbrokes Poker Cruise
Entry into the $10,000 Champion of Champions freeroll, on board the 2005 Ladbrokes Poker Cruise.
For more information on LEOCOP, visit:
Ladbrokespoker.com
The site for Poker Million - LadbrokesPoker.com and Barry Hearn's Matchroom Sport have a Joint Venture called "Poker Million" which is Europe's most famous Poker Tournament, covered on Sky Sports. In the 2003 Poker Million, the UK snooker player, Jimmy White won the $360,000 event, causing one of the biggest upsets in World Poker. Jimmy was quoted as the 100-1 outsider when Ladbrokes opened betting on the event. The 2004 event was won by Irish pro, Donnacha O'Dea, after a memorable 'heads up' battle with Dave "The Devilfish" Ulliott, arguably England's greatest ever player.
The 2005 Poker Million will be a groundbreaking event in the history of Poker. LadbrokesPoker is adding $855,000 to the prize money, the most amount of money every added to a poker tournament. It is the richest Poker tournament in Europe and also the most famous with $1,000,000 to the winner. Qualification is exclusively via online tournaments at Ladbrokespoker.com, reflecting the symbiotic relationship between online and offline poker. For more information on Poker Million 2005, visit: ladbrkespoker.com
Click below to play
Ladbrokes Poker